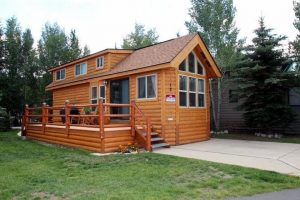 Tiger Run Resort is one of the more diverse properties in Breckenridge Real Estate. This community lies just east of County Road 9 off of Revette Drive on the northern end of Breckenridge.
This community is Breckenridge's playground.  Tiger Run Resort is exclusively utilized as second homes, vacation homes, and short term rentals.  These residences are not utilized as full time homes, designed to be 2nd homes.  This is a full service resort offering spaces for completely contained resort vehicles as well as cabins.  The mountain chalet cabins are completely freestanding, with log siding on their own individual lots.  Tiger Run Resort units range slightly in size, age, and views, but overall have breathtaking views of the Ten Mile Range, Swan and Blue Rivers, as well as the adjacent National Forest.
This community prides itself on the playground that it truly offers its residents.  There is a 12,000 square foot clubhouse in the center of the resort with over 400 surrounding lots.  The clubhouse features an indoor pool, laundry facilities, game room, lounge room, and hot tubs.  Outside there are basketball courts, tennis courts, a pavilion, playground, and rock pit fireplace.  If you are an avid angler, this makes for a fantastic weekend getaway home.  Just 75 miles from Denver and situated right along the Gold Medal fishing waters of the Blue River.
Being minutes from Breckenridge, you are still able to enjoy all the activities and festivals that go on right on Main Street.  Whether visiting for the summer or winter months, there is always something exciting to do.  Both summer and winter festivals, tours and performances include jazz, the Pro-Challenge bike race, Oktoberfest, Breckenridge Film Festival, National Repertory Orchestra, and of course Breckenridge's world-class snowboarding and skiing at Breckeneridge Ski Resort.  Before visiting Breckenridge or while you're here, contact Lori & Scott Mitchell – Visit Breckenridge Real Estate with Slifer Smith & Frampton Real Estate 970.333.0540 or 970.333.0541.